Adam Richard Spector (September 15, 1981 – April 11, 2007)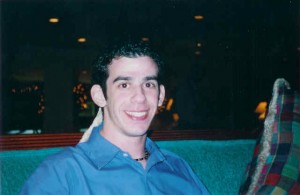 In the fall of 2003 after graduating from Wharton and the University of Pennsylvania, Adam experienced discomfort in his chest. The doctor thought this discomfort was heart related. He was monitored for a heart condition but the results were negative.  However, the blood work showed that Adam was anemic.  Nothing further was done.  Months went by until he developed other symptoms.  In April of 2004, Adam developed symptoms which included fevers, itching, and night sweats.  An astute doctor could conclude that these symptoms were an indication of something serious. Unfortunately for Adam, it took several months before Adam was accurately diagnosed.  During this time, the doctors believed he had Crohn's disease. However, in July of 2004, Adam complained again about his chest and a doctor ordered a chest CT-scan.  On July 21st, coincidentally, Adam's mother's birthday, they believed that Adam had lymphoma from the scan.  A biopsy from the neck confirmed this suspicion. Adam was officially diagnosed with Hodgkin's disease, stage 2b.

Adam underwent a chemotherapy treatment called ABVD at the end of July. This treatment was standard for treating patients with Hodgkin's lymphoma. Adam seemed to be responding well to this treatment. After a few cycles of chemo, the scan indicated improvement.  However, in November the scans showed the cancer was progressing.  In December, Adam's doctor decided on a new plan to help cure Adam.

Starting in January of 2005, Adam began a more intensive chemotherapy, ICE.  He underwent three cycles of this treatment every two weeks. After he completed this treatment, he then had an auto stem cell transplant in March. After he recovered from this procedure, he needed to have radiation in May.  During the radiation, Adam seemed better.  However, in July he was told that the cancer was back under his arm.  He had to continue with the radiation longer than expected.  For several months, Adam did feel better.  Unfortunately, this only lasted a few months. Adam was convinced that the cancer never left and that it was too small to be seen on the scans.  His intuition was correct.

In early November of 2005 , the doctor gave Adam three choices. One was palliative care; the second was another stem cell transplant with chemo by the name of MOPP or a clinical trial.  The doctor also said "Adam, we all have to die sometime." Adam hearing this, took no for an answer.  He was twenty four years old at that time and he had worked so hard to set himself up for the future.  He told his doctor that he was not going to die and that he wanted to do a clinical trial.  An avid researcher for his disease, Adam found a potential solution to what appeared to be an insurmountable problem.  This solution was a clinical trial at the National Institute of Health (NIH).

Adam began participating in the clinical trial in December.  It was a monoclonal antibody with a radioactive isotope. It was doing its job and the doctors were so positive that he was on the right path. For three months, there was an 82% shrinkage of the disease. There was hope but with trepidation.  Finally in May of 2006, Adam was told once again that the disease was progressing and that he could no longer be on the trial. The cancer was now stage 4. Devastated, Adam and his family went home with very little hope.  After a few days of gaining emotional strength, Adam and his doctor came up with the idea of doing another stem cell transplant.  Since he had extra stem cells that were frozen from his prior transplant, he would not have to collect again.  Later in May of 2006, Adam under went another auto stem cell transplant.  He was hospitalized for several weeks and went home. A week later he developed a fever of 106.  He went back to the hospital and was treated for an infection.  At that point, he felt much better and thanked his doctor.  He regained hope.

In September, the symptoms returned but nothing showed on the scans.  A few weeks later, the lymphoma was showing up in his lungs.  Adam wanted to try integrative medicine along with Rituxin.  He felt fairly well due to the supplements but the disease was not stopping.

In November, he opted for another clinical trial that he had researched and he believed that this was his last hope. So off to California to the City of Hope, he began a clinical trial called SAHA.  This was in pill form and Adam thought this would be easy.  As he began this treatment, he realized that this was the worst of any of the treatments that he had experienced.  He described it as having food poisoning 24 hours a day.  He was confined to his bed and could not eat.  He was on this trial until January when his platelets became too low and developed severe side effects. The scans once again showed progression. He did not have any quality of life for many months and his body was failing rapidly.  Hospitalizations became more frequent and Adam was getting weaker and very frail.

In March of 2007, Adam left his home for the last time. Walking was almost impossible, and breathing was beginning to be labored.  In the hospital he had some lucid days while most of the time he was sleeping.  Morphine became the drug to ease the pain and help him breathe along with the oxygen.  He was in the hospital for exactly one month until he passed away surrounded with love by his family on April 11, 2007.

Adam knew that he was dying and continued to be very brave and courageous.  He expressed concerns for those that he left behind and he had one final request.  Adam wanted a fund set up for Hodgkins research.  He knew that there were not enough options out there for those that had refractory Hodgkins like himself.  A fund was immediately set up at Memorial Sloan-Kettering and it is called The Adam Spector Fund for Hodgkins Research.  This fund is a part of the legacy of Adam who was a visionary and an advocate for all people who share this terrible affliction.